Cincinnati's Acid Stained Concrete Contractor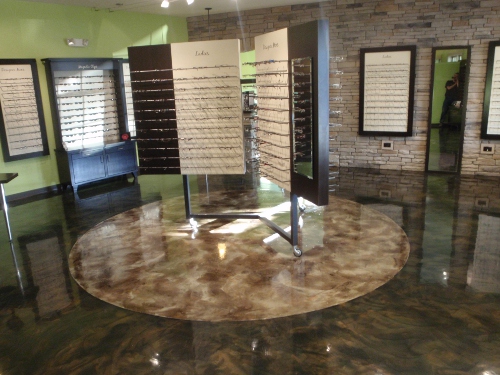 Acid stained concrete is among many options for concrete finishes so when considering a concrete flooring option for either inside or out, consider it as a cost effective, durable and beautiful option. It continues gaining popularity as a low maintenance, reasonably priced, attractive floor finish. For interior and exterior applications, there are unlimited colors and options that can be customized for the property owner.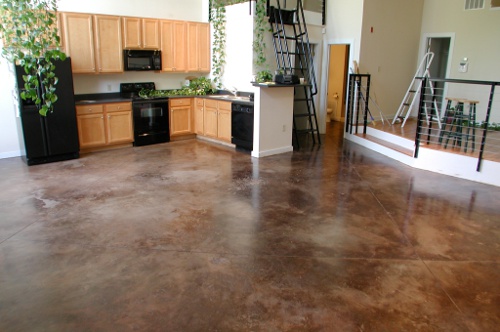 Acid stained floors are created by applying a mixture of acid, water and inorganic chemicals to the concrete surface after it's poured. The variation in the density, porosity and water retention of the concrete is what creates the extraordinary colors and marbling effect of acid stained concrete.

It is very low maintenance, and has a low initial installation cost. The finish can be applied over virtually all concrete surfaces including those that have been in place for many years. Each acid stain application is unique. Variations in the surface texture, chemical make-up and content of the concrete the stain is being applied to, and ambient environmental conditions provide for a unique outcome every time. There are many options to pick from when acid staining. The concrete can be etched or stenciled with virtually any pattern including tile, brick, stone, monograms or custom patterns. A stencil may be applied during the installation process, resulting in complex, beautiful patterns. We can also emboss stencils into the stained concrete. Another option is first applying an overlay then applying stain to the concrete which creates an unbelievable result.
The photo to the right depicts an interior acid stained floor that has had an overlay texture applied, giving the final finish the feel of very high end porcelain tile, without any of the downsides like cracking, chipping, discoloration or staining from organic or non-organic materials being spilled or dropped on it. 


Once applied, this finished product is extremely durable and forgiving to traffic and everyday life!
The installation process of a stained concrete floor, is to first remove any floor coverings, clean the concrete, acid etch it, stain it with an acid stain, then apply sealer and wax. The process is designed to provide maximum adhesion of the stained result while providing beauty and longevity to the acid stained floor. The sealer is basically impervious to most household spills, including food, chemical and pet stains. It is extremely low maintenance in that all that needs to be done is to be swept and an occasional damp mop. Over time, the sealed and stained surface can develop scuff marks and light scratching over the heavily trafficked areas. A floor finish or wax can be easily applied with a sponge mop to restore the shine and original beauty to your floor. No buffing or grinding will be necessary to restore the floors' original luster. For new concrete or existing concrete that is in good condition, this is the most cost effective way to go, to create a very attractive, long lasting finish. As Cincinnati's Acid Stained Concrete leaders, we will strive to answer all of your questions and earn your trust!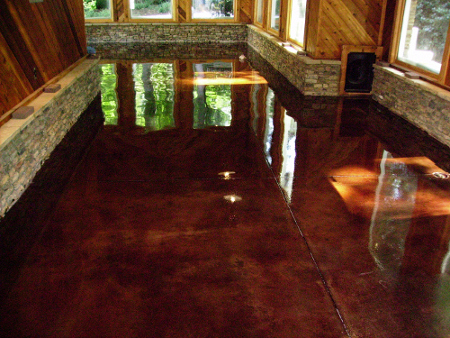 For most remodel projects, we recommend installing a concrete overlay first. This overlay would consist of modified acrylic cement, which will bond to the existing concrete at the molecular level, providing a smooth, integral surface to acid stain on. When carpet tack strips, tile or linoleum are removed, the concrete underneath is often damaged. In the case of tile, ghosting of the grout lines can appear, unfortunately, these surface marks will not be masked with the staining process. The tack strips create divots or holes marks on the edges of the rooms, that can be filled but they won't blend. Vinyl sheet goods, tile and carpet glue can penetrate deep into the concrete, and may only appear after the concrete has been stained. Chemicals may have been spilled on the concrete during the construction process that causes the stain to react with the spill. An overlay will cover up any stains or undesirable characteristics in the existing concrete, providing a finish that appears like a brand new concrete pour.
The process for installing an overlay is to remove any existing floor coverings. The floor is then prepared by cleaning it, applying an acid wash and neutralizing the concrete. A bond coat is applied. Then a micro-topping is applied. The micro-topping is smoothed to get a very smooth finish to stain. The concrete overlay is then stained and sealed.
This is an ideal solution for most remodeling projects as it eliminates potential problems with unwanted or unknown textures and stain resistance.
If you would like more information about acid stained concrete for your home or office, you can either call us at  513-315-1661 or fill out the form below and we will contact you back with the answers to all of your questions about acid staining concrete.