Cincinnati Concrete Floor Resurfacing
Cincinnati concrete floor resurfacing services include basement floors, garage floors and living area floors. Would you like to have a finished look to your basement? One of the fastest, most cost effective ways to do that is by adding color or a pattern to the existing plain concrete. What if we told you the cost of concrete floor resurfacing is less than adding tile or even a vinyl sheet product and infinitely more durable. What if we also told you it could be completed in just a day or two and ready to use? Interested yet? These are both very true! We are offering a concrete floor resurfacing installation that is beautiful, durable and affordable. So you may ask, "what if my floor surface has cracks in it or if the existing surface is ugly or pitted, can you still make it beautiful"? The answer is yes! Even if the surface is uneven or ugly, we can turn it into something amazing! Our system is unique in that we can take old, ugly, worn-out, plain concrete and make it look spectacular!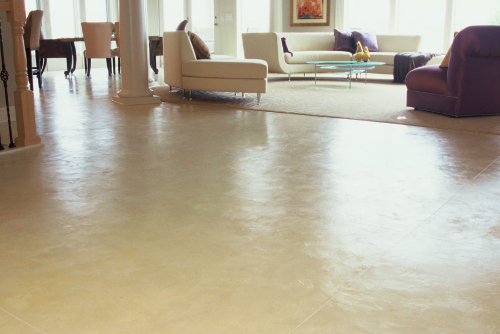 As you can see in this picture, the finish is as beautiful as it is durable.

The key in finding a Cincinnati concrete floor resurfacing contractor is locating the most technologically advanced system that encompasses all facets and possibilities. This is what makes us specialists. We offer the most advanced system that exists. Modified acrylic cement becomes molecularly bonded to the original concrete. This is of utmost importance because we are not just applying a "topping". We are connecting old with new, forming a stronger, more durable material that will last decades! Our system is not paint or epoxy. Both of these materials are simply laying on top of the original concrete and are subject to pealing and wear. Our system is bonded to the sub-straight and will not crack or peal off.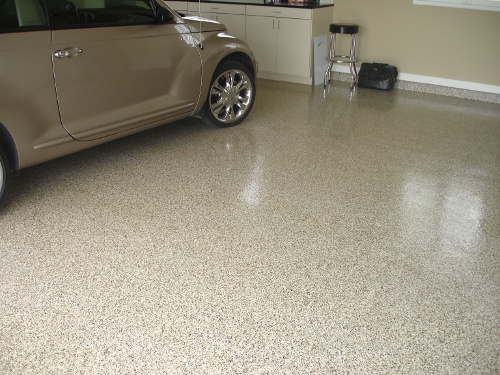 Whether a garage floor, a living room floor or a basement floor, if you have ordinary concrete, we can make it beautiful!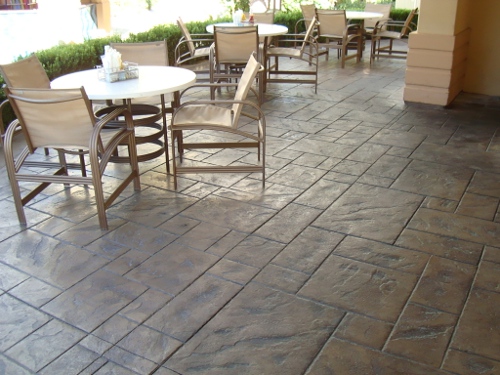 Our system is available in a multitude of colors, textures and patterns. If you can dream it, we can do it. Call us today to meet with a concrete floor resurfacing professional that can answer all of your questions and give you a free estimate! Don't wait another minute, call and schedule your beautiful floor today! Call us today 513-315-1661