Cincinnati Decorative Garage Flooring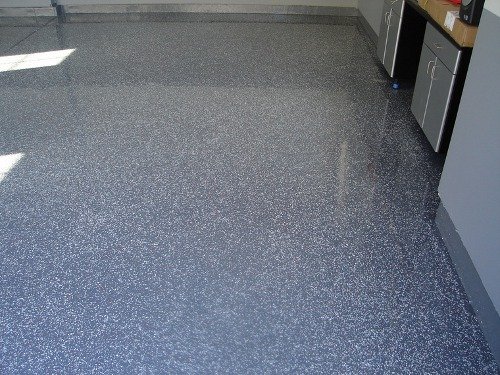 Cincinnati Concrete Resurfacing is the expert in Cincinnati Decorative Garage Flooring. We are constantly working with the newest flooring styles and finishes.  The best part; we can install the same system for you without breaking the bank.  Our system will take your gray garage floor and turn it into a masterpiece you'll love to share.
The CCR system can be installed in an unlimited number of designs, colors, patterns, and finishes. We know garage floors are subjected to a wide range of activities and want you to rest easy knowing that your new floor is backed by a 10-year manufacturers warranty.   Cincinnati Concrete Resurfacing LLC will transform your garage floor.
Cincinnati Decorative garage flooring is your chance to add value to your home while at the same time, giving it some personality.  Add a tile design, acrylic chips, your favorite sports team's logo, the sky is the limit.  With the CCR system the only limit is your imagination.
The process is painless.  Our trained installers will prepare the surface by acid etching and power washing the surface with a 3500-PSI industrial pressure washer.  During this process the floor will be cleared of any debris including oil and grease spots.  The surface is now ready to bond with our product.  If the floor has any cracks they will be filled at this time, using a special formula designed to bond with the existing concrete at a molecular level, making the new repaired concrete stronger than it was before. 
Now its time to lay out the pattern or design.  Our product has unlimited design potential.  Checker board pattern, tile, automobile emblems, the sky is the limit.  Now that your custom design has been laid out the installer will coat your garage floor using an acrylic modified cement specially mixed for your home.  The drying time is typically only 3 hours before a sealant can be applied.  The sealant is specially formulated to make your new garage floor mildew, mold, oil, grease, and salt resistant.  It will also withstand the freeze/ thaw cycle that is like kryptonite to concrete.   As an added bonus, the product and installation is backed by a 10-year warranty!  Check out the "do it yourself" products and see if they can say the same.
Cincinnati Concrete Resurfacing is the expert in Cincinnati Decorative Garage Flooring.  Decorative flooring adds value to your home.  Once your new garage floor is installed you'll wonder why in the world it took you so long to have it done.  What are you waiting for?  Give Cincinnati Concrete Resurfacing a call today and speak to one of experts.  Set up an appointment and your one step closer to the garage floor you're looking for at a fraction of the cost.  Call 513-315-1661 today!