Cincinnati Stamped Concrete leader!
As the leader in Cincinnati stamped concrete, we offer much more. What if we could take your existing concrete surface and make it look and perform like a brand new stamped concrete slab? Even better, what if we could complete your project within a day or two without the mess of tearing the old out and have the space useable the next day! No more need to let the slab cure! Using our system, we can usually install your new patterned concrete project in a single day! With a huge cost savings and a surface that is 2-1/2 times stronger than new stamped concrete!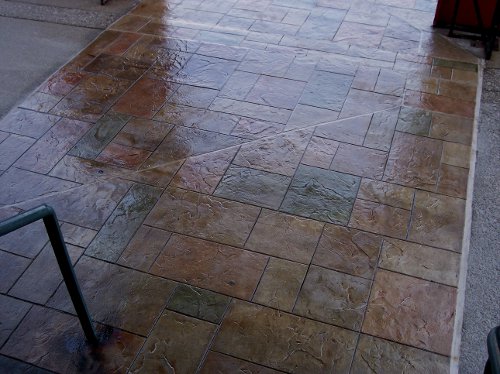 How can we save you 20-60% and deliver a surface that is stronger than new concrete?
Our system uses modified acrylic cement. This is a technical name for a material that molecularly bonds to the original concrete and actually makes it stronger and more resilient to substances that are normally harmful to "ordinary" concrete. Things like oil, salt, paint, mold and mildew are all harmful to regular concrete surfaces but, with our system, they can do no harm. When our product bonds to the original surface, it becomes a part of that surface. It isn't a "coating" that would ever peal or spall. In fact, in most applications, it will never crack, as long as the structure of the original surface was solid. Our experienced professionals can evaluate you concrete and propose the right solution. Once our system has molecularly connected to the original surface we seal it with an impervious material that will basically make it "bulletproof"! No more worries about laying salt or other de-icing materials on you concrete because of the harm it will do. No need to be concerned about vehicles that have an oil, brake fluid or anti-freeze leak either, your Cincinnati Concrete Resurfacing project is protected.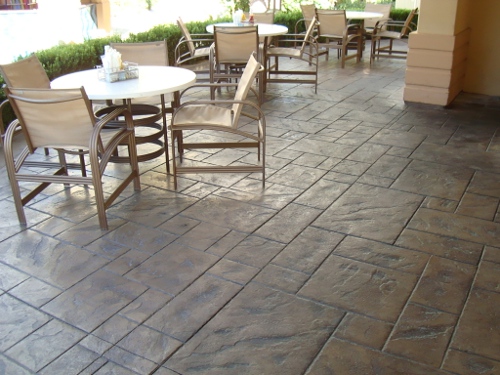 As far as Cincinnati stamped concrete is concerned, we are the leader, call us today and our professionals will come out and evaluate your needs and deliver the results you want, beautiful, functional concrete surfaces, call now to schedule! 513-315-1661