Concrete Paving Services
We offer Cincinnati concrete paving services. Concrete driveways, sidewalks, patios and even garages, we provide complete, one-stop services. Whether it's a new pour or a tear out and re-pour, we offer a complete solution. Small, medium or large, we will provide our expertise in completing your project with speed, quality and a finish that is second to none. We have estimators that will meet with you to establish what your goal is and work hard and smart to see that the project is completed one time, with the desired result obtained. Don't trust your project to a fly-by-night company, call us today and allow us to earn your business! There isn't a company that will work harder for you!
| | |
| --- | --- |
| | Whether you are in need of a sidewalk, driveway or road surface, our experts can help. Through years of experience and knowledge of the state-of-the-art application methods and even the proper concrete mixes, we are clearly the leaders in new or replacement projects. Call us today to get a free consultation with one of our experts. Call us at 513-315-1661, you'll be glad you did! |
Cincinnati Concrete Paving is our speciality!
The concrete around your property is one of the largest investments you have. When replacing these concrete surfaces, it's important to rely on a company that not only has a great reputation, but also has enough practical experience to know how to deal with subtle issues that will impact the vitality of your new concrete project. Things like water control under the slab. This is very important. In Greater Cincinnati we have extreme weather variations. Summer temperatures sore to 100º or more and the winters get down right cold, below 0º at times. This causes water that is under or around your concrete to freeze and do something that's called heave. Think of a cold soft drink that you wanted chilled quickly, so you put it in the freezer, with the best intention of pulling it out before it froze...well, you left it in there and it froze. What happened to the liquid in the can? It either expanded the can to its limit or exploded. The same physics apply to water under your concrete. When it heaves, it can actually raise the slab, then while raised, if you move a vehicle across it, it fractures. Even the weight of the concrete itself can cause the slab to fracture in this case. We want to do what's necessary to prevent this from happening. Our experts will add drainage under the slab if necessary to revise the water before it becomes a problem for you.
Our goal with every customer is to provide a beautiful finish that will last a long, long time! All concrete will fracture. It's that simple. Minimizing the number of fractures and how it fractures is what makes us the only choice. 
Call us today! 513-315-1661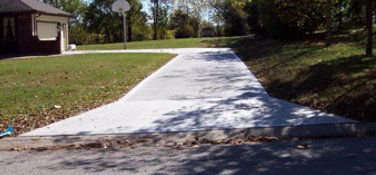 In Cincinnati concrete paving, we are the leaders. We can handle the smallest to the largest project for you. From small sidewalks or patios, to large parking lots, we have the skill to complete projects of any scale or size at a competitive price.
Does your project require a special finish? Smooth trowel finish, brush finish or maybe even a stamped or patterned finish? We can provide finishes from the simple to the sublime! Would you like a corporate logo or school emblem finished into your project? We can do that. A detailed pattern? We can do that as well. Pigmented colored concrete is also available for customers who want to have a unique finish. Anything you can dream that can be done with concrete, we can help. Call us today and let us help you realize your dream concrete solution! We deliver the highest quality results at the most competitive prices available anywhere, give us a call, you'll be glad you did!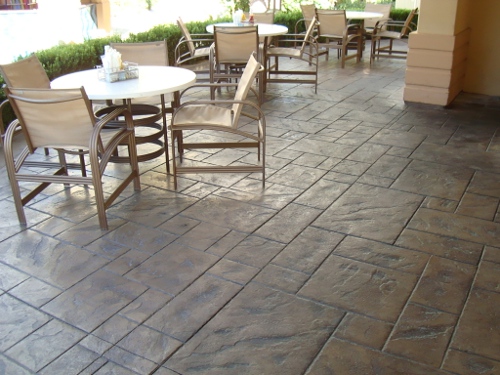 If you're looking for a sleek and strong concrete driveway, sidewalk, or patio that can stand the test of time and manage to look great in the process, we can help! That's why Cincinnati Concrete Resurfacing is proud to specialize in custom concrete services for your home improvement needs. We are fully licensed and insured, and our skilled technicians make it possible to get top of the line Cincinnati concrete paving and concrete services at affordable prices.
We will deliver the results you want and need for a long lasting, great looking project!
Concrete slabs, driveways, patios, sidewalks and parking lots are our specialty. We offer free estimates and will provide you with an un-equaled result!   Call us today, we are here to serve you. 513-315-1661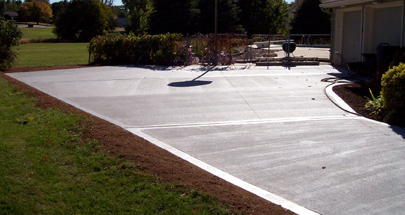 FAQ
What type of concrete paving projects does your company handle?
Interior Paving:
Textured Finish, Concrete Coloring, Interior Concrete Floors
Outdoor Concrete Paving:
Concrete Patios, Colored Concrete, Concrete Walkways, Concrete Driveways, Decorative Concrete, Stamped Concrete, Concrete Resurfacing, Exposed Aggregate Concrete, Concrete Retaining Walls.
Can your company fix cracks in existing concrete?
There are good products that claim to do these repairs, however if the cracks are 1/4" or larger in width the cause is normally because of lack of reinforcement, settling of the base material, a tree root lift or water damage. In these cases we will suggest tearing out and replacement of the damaged area with new, properly reinforced concrete.
How do you reinforce your concrete?
We use 3 types of reinforcement:
Steel Re-Bar, Wire Mesh and Fiber – fiber is small particles of fiberglass added to the truck at the plant which binds the concrete elements together.
We use a combination of these reinforcement agents and sometimes all three are required. Every particular job has its own set of requirements as a job site conditions dictate. For example, if you have very sandy soil or poor drainage conditions, you would need the maximum amount of reinforcement.
Do you serve my area?
We service the Greater Cincinnati, Northern Kentucky and Southeast Indiana area and are often called to further distances for specialty or decorative work.
How much experience do you have doing this type of work?
We have 50 plus years of industry experience and have been in business since 2013.